ON GOING EVENTS
THE SECOND SATURDAY OF EVERY MONTH COME
SIP & SAVOR WITH US!
JUNE 10TH - FEATURING PENNY ROYAL FARMS
UPCOMING EVENTS
PAINT – SIP – UNWIND
– PRIVATE EVENT WITH PAINTED CELLARS –
REFLECTIONS OF A DRAGONFLY
SUNDAY, MAY 21st
from 3:00 pm to 5:00 pm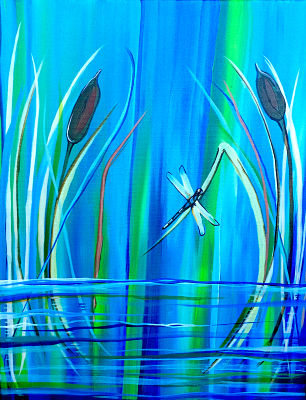 We are happy to bring back, "Reflections of a Dragonfly," a favorite from our last Spring season by Samantha Taylor. This piece is easy to paint and looks absolutely lovely in any room!
Enjoy interesting and delicious wines from smaller producers, mostly from our neighbors in Mendocino County as you paint. We aim to inspire...
– TICKETS ARE $40 PER PERSON –
Includes a glass of wine and appetizers.
---
– SAVE THE DATE! –

Saturday, July 15th 2017